PhotoTagStudio
PhotoTagStudio (or shorter PTS) is a quick and easy tool to show, edit and create tags in digital photos.
A first look at PTS
PhotoTagStudio features an explorer-like look. You can browse your desktop and select files. As soon as a file is selected a thumbnail is displayed.
The different areas of the main window can be resized and some can be hidden, (e.g. in order to make the thumbnail a little bit bigger).
The different areas (described in the sections below) are shown on the right side of the window.
Left to the filename you can select files for batch processing. (e.g. write a city name to the IPTC-tag to all selected files).
The buttons below the thumbnail rotate the picture (You will not lose quality here, since this is only a change in the EXIF-orientation tag). Most viewers read this tag and show the picture correctly oriented.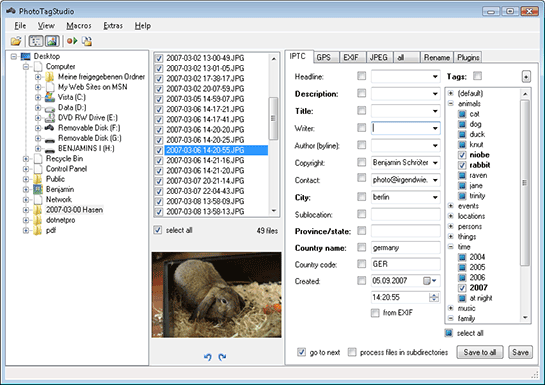 What PhotoTagStudio can do for you
For more detailed information look at the features in the menu
Display and edit the EXIF metadata recorded by your digital camera.
Display and edit the most common IPTC tags. Also do batch edits for some or all files in a directory (and its subdirectories).
Display and edit every stored tag, including the hidden maker notes and yet unknown tags from some camera vendors.
Geotagging: Display and edit the GPS related EXIF tags.
Import a logfile from your GPS device and fill the GPS fields automatically.
Create .kmz files (for Google Earth or Google Maps) from geotagged pictures and place them on the world map right where they were taken.
Copy or move photos from a memory card and place them with new filenames based on tags on the disk.
Rename the jpg files from tags, variably using tags to create the filenames. E.g. using date and time tags.
Mass tagging: Change tags in a number of files (or all files on your hard disk). Change misspelled keywords in hundreds of files with just a few clicks.
With the macro editor you can create macros for repeating actions of all parts of PTS. E.g. copy files from a memory card to the disk, rename them, add a few IPTC tags and change the GPS tags as one task.
To allow even more customization you can write small plugins for PTS in any .net language to create tags dynamically the way you need.
For most editors you can save the entered values as a preset and load it every time you want to use the same values in this editor. Try to right click on the IPTC or GPS editor, the renamer or the copy-photos-window.